Make a Difference in Chem-bio Defense
We need fresh ideas and perspectives if we're going to make ground-breaking discoveries.
If you're approaching graduation and wondering what you're going to do or how to take your research to the next level, then submitting your work to present at the 2022 CBD S&T Conference is a great way to showcase your work to experts in the chem-bio defense industry. Most of all, your work could make a big impact for the nation's security and future.
The conference will provide 20 travel awards for students to attend and present their research. This travel award allows select students to participate in the conference and learn about current research in the industry. Consider making a difference in the chem-bio defense community and submit your abstract.  
To be considered for one of 20 travel awards, students must: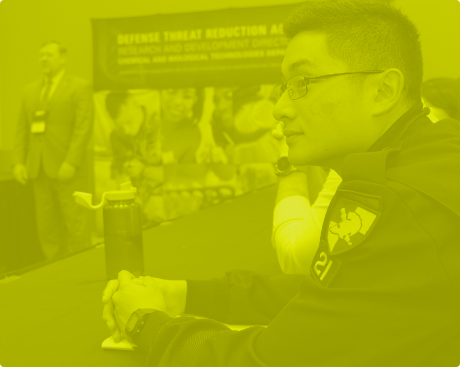 Be currently enrolled — at the time of the abstract submission, as well as the date of conference — in an accredited undergraduate, graduate, doctoral, or postdoctoral program. 
Submit an abstract to the Conference's Call for Papers no later than the extended deadline of July 15, 2022.
Undergo thorough abstract review by DTRA subject matter experts. 
Be selected to present their work in one of the conference sessions.
Student travel awards will be based on review and selection of eligible abstracts, and travel awards will cover the cost of registration, ground transportation, airfare, lodging, and meals (per diem) for the conference.