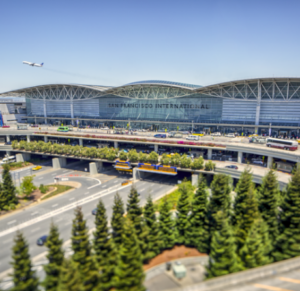 San Francisco International Airport (SFO)
SFO is located approximately 14 miles south of downtown San Francisco. The approximate time to downtown ranges between 20 and 30 minutes, depending on the time of day and mode of transportation.
Visit the airport website for a listing of ground transportation options. Transportation options will vary along with rental car, taxi, ride apps, and shuttle pricing.
Transportation Options
Airport Transport by Taxi 
Taxis depart from the designated taxi zones located at the roadway center islands, on the Arrivals/Baggage Claim Level of all terminals. Uniformed taxi coordinators are stationed at the taxi zones from 7:00 a.m. to 2:15 a.m. to assist passengers with questions or concerns.
The approximate fare to a downtown destination is $42 to $63. Taxis may add a $2.00 pass-through fee to all airport fares leaving SFO. Voluntary ride sharing for two or more people with a maximum of three destinations is permitted.
Car Rentals
Auto rental counters are located in the centralized SFO Airport Car Rental Center. Shuttle buses to the Rental Center depart from Upper Level outside curb every five minutes. The SFO AirTrain (an intra-airport people mover system) provides transportation to the Rental Center.
Ride Shares (Uber/Lyft)
Travelers can utilize ride share services like Uber and Lyft for travel to and from SFO. For drop-offs, riders can be driven to whichever terminal or parking lot they need. For pick-up, all ride shares must be boarded at the top level of the central parking garage, which is accessible from any terminal via SFO's AirTrain. 
Bay Area Rapid Transit (BART)
BART's all-electric trains are a fast, inexpensive, and dependable way to get from SFO to San Francisco easily and avoiding traffic. Once you have your luggage, follow the signs for AirTrain, a free tram service to all terminals. Take either the Red or Blue AirTrain line to Garage G and BART stop in International Terminal G to take BART. BART fares are based on distance traveled, the greater the distance, the higher the fare. A round-trip fare from SFO to downtown San Francisco is $19.30 ($9.65 one-way). Buy your ticket from the ticket machines at the SFO BART station.
Bay Area Transit
While in town there are several quick and effortless ways to get around! Take advantage of the city's affordable transportation options.
San Francisco Municipal Transportation Agency (SFMTA)
The San Francisco Municipal Transportation Agency (SFMTA), or Muni, is composed of the San Francisco Municipal Railway and the Department of Parking and Traffic. Operating historic streetcars, modern light rail vehicles, diesel buses, alternative fuel vehicles, electric trolley coaches, and the world-famous cable cars. 2022 Muni fare is only $3; cable car fare is $8. Route information is published on the SFMTA website.
Cable Cars
Cable cars operate along three routes: the Powell-Hyde line, which begins at Powell and Market Streets and terminates at Victorian Park near the Maritime Museum and Aquatic Park; the Powell-Mason line, which also begins at Powell and Market but terminates at Bay Street just three blocks from Fisherman's Wharf; and the California Street line, which runs from the foot of Market Street to Van Ness Avenue. Visitors must purchase a ticket to ride the cable cars. A single ride costs $8, no matter your age or the time of day. You can pay with exact change or via the Muni Mobile app.
Muni Metro or Light Rail
Vehicles Muni operates underground downtown and at street level in the outer neighborhoods. Six lines are involved: J(Church), K(Ingleside), L(Taraval), M(Ocean), N(Judah) and T(Third). Historic streetcars (F-line) operate along Market Street beginning in the Castro District and terminating at Fisherman's Wharf. Use the Metro Map to find the nearest Metro near your location.